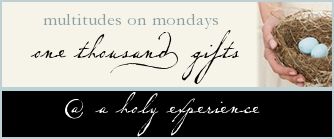 116. "One Thousand Gifts" is Ann Voskamps book that finally came to my mailbox this week! It is where this list idea came from but I have never read the book! I've only visited her amazing website
www.aholyexperience.com
I'm only 32 pages in, but her book is incredible! I want to buy it and send one to each of you. But...that is not going to happen...so buy it! It's $9.23 on Amazon. After it's second week it is on the USA Today's top 10 list! It is life changing. So here is the continuation of my list that helps me "find joy in the midst of deadlines, debt, drama, and daily duties".
...to be continued (when I finish the book)!
117. cute, super excited kids in the swimming pool learning new skills at swimming lessons.
119. my big girls that call me when they need someone to be proud of them
120. daddy going to the store to buy 1000 craft sticks and making a stick city with the kids
121. Weight Watchers Snicker ice cream bars
122. continued perspective
124. Ronnie Freeman - I love this song. Take a minute to listen...
126. encouragement from sisters in Christ
127. HuHot Mongolian Grill - new restaurant on North Academy
128. Daquiri Ice on a sugar cone from Baskin Robbins
129. Bierworks - new in Woodland Park!
130. date night with my husband that included 127, 128 AND 129!!!
131. new bikes and warm weather to ride all over town
132. zoo pass and warm weather to enjoy the zoo and learning all about the elephants while they got fed and trained!
133. pizza and big slide at Boriello Brothers with great friends!!!
134. memory foam
135. driving home from swimming lessons, dark, snow-packed roads, -1 outside, listening to three little angels in the back of my suburban singing praise songs. Actually brought me to tears. That's the good stuff.
Check back next Monday for another installment of One Thousand Gifts. God IS Good!