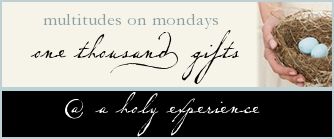 163. This book that is changing my life...
164. spiritual growth...
165. a new group of amazing Bible Study gals
166. the realization that I am not fully human and that I can no longer use the excuse that I am...as the Lord lives in me..
167. successful transitioning for a cute 13 year old girl into our family
168. 58 degrees
169. Girl Scout cookies...mmmmmmmm
170. steady income
171. the right amount of income, never "enough", to teach me to be content in everything
172. 1:1 time with Kenny
173. 1:1 time with Isaac
174. the desires of my heart

Check back next week for another installment of Multitude Monday. God IS Good. Gratitude precedes the miracle...