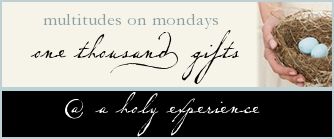 153. a new old-fashioned pencil
154. "18...19...20...READY OR NOT HERE I COME!"
155. peach roses (my favorite) from my husband (my favorite)
156. Ellie coming into my bed after she is supposed to be asleep to say, "Wait! I have to come get something!" and then running over to kiss my face.
157. new sisters
158. quiet time for Mommy
159. great new perspective and ideas from the special ed conference in Denver
160. Valentine's Day
161. sunshine
162. Ellie: "The favorite part of my day was giving Daddy his Valentine present." She is such a giver and so thoughtful about what the perfect gift is for each person.
Check back next week for another installment of Multitude Monday. God IS Good! And gratitude precedes the miracle...