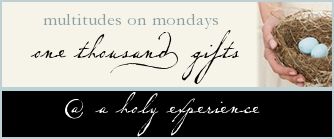 265. one little girl reading bedtime books to her little brothers
266. tea at Glen Eyrie castle with my little Brownie and her Girl Scout troop
268. an invitation to a sneak peek at "African Cats" at Tinseltown with my kids - 1 week before it opens!
269. watching my kids interact with the animals at the zoo - feeding giraffes, feeding birds, and calling otters (we watched them wander around looking for that Ellie otter)
270. jogging with my big girl
271. helping my little girl finish her first sewing project
272. accountability (I really hate running)
273. celebrating a sweet, happy adopted cutie
275. finishing huge time-consuming projects
Check back next week for another installment of Multitude Monday. God IS Good...and gratitude precedes the miracle...