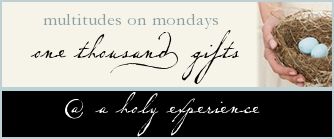 253. the sound of the trash truck - which means that the trash man is taking my garbage away - which in turn brings me joy!
254. little boys sleeping in till 8:00
256. a day at home with cousins - a spontaneous gift that was such a blessing
257. loving on my little 8 pound nephew while he sleeps in my arms
259. running alone
260. winning a day at the spa!!!
261. curls
262. pink toes - that remind me of my Gram everytime I look at them - true.
263. reading a book (a grown-up book) that my 7 year old told me I really should read after she read it - "Heaven Is For Real"
264. my work-out buddy (Kenny)
265. a husband that cares if Multitude Monday happens - "otherwise", he says, "it's just feels like Monday"
Check back next Monday for another installment of Multitude Monday. God IS Good...and gratitude precedes the miracle...