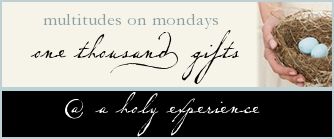 189. soft 4 year old boy kisses
190. Isaac: I'll never not snuggle you Mommy.
191. a daddy that completely adores his daughter and a time to celebrate that
192. an adorable beautiful daughter excited to have a date with her daddy
194. the sound of little girls practicing the piano
195. little boys loving to help Mommy
196. a special time coming for Josh to just be...with his dad...and his Grandpa...
197. excitement of vacations coming
198. siblings loving to play together
199. walking hand-in-hand as a family to the gas station with allowance in pockets to buy a candy on a cold Sunday afternoon
200. the reminder this week that giving thanks is not only for the "good" things but for the hard things too
201. Sunday morning sermon about how to love especially when it's hard
202. time with my best friend/husband talking about real stuff and laughing
Check back next week for another installment of Multitude Monday. God IS Good. Gratitude precedes the miracle...